The McCallum Family has been roofing on southern Vancouver Island since 1945. In the late 1970's McCallum Road was built by the McCallum family. The present Lactation of Home depot, Costco and may others in Langford, BC. If you just need a roof repair, or more our repair experts will let you know. We pride our self's on fast roofing repair service in Victoria, and Duncan, BC
Roofing Repairs & roof leaks we have stopped in Victoria, BC & Duncan, BC
Asphalt Roofing, Concrete Tiles, Flat Roofs, Torch-on Roofing, Metal Roofing, TPO Roofing & EPDM Roofing
If you are considering repairing an old roof here are some things to know, we will always recommend replacing the roof. New roofs in Victoria, Duncan, BC A roof repair is in most cases is a temporary option, and most likely a warning sign of bigger leaks to come. The leak may return and you might be on vacation and have no idea, thus causing damage to the contents and structure of the interior of your home. We have been repairing flat and asphalt shingle roofs in Victoria and Duncan for a number of years. We have well trained and competent roofers to do repairs to commercial buildings, condos and townhouse complexes, as well as residential roofs. Large numbers of commercial buildings,condos and townhouse complexes have tar and gravel roofs and we are experts when it comes to flat roof leaks. A flat roof leak might travel 20 feet before you see the leak, however this is rare but we have seen it on a small apartment building on Hillside Ave in Victoria, BC. If you have a tar and gravel roof it can only be fixed successfully a few ways. The best way is to call a roofing contractor that has the ability to patch the tar properly. What to watch for when getting a roofer to fix your tar and gravel roof is, if they are offering to fix the leak with torch-on roofing this might not be in your best interest, as torch-on is not compatible with tar and in most cases fails within a season or sooner. We have many of home owners install a tarp on a flat roof and this does nothing besides ruin a good tarp. Tarps are made of fibers the tighter the fiber the better the tarp, however even the best tarps can't resist pooling water. Another common cause for leaks are improperly installed wall, transition, skylight and chimney flashing. We see far to often this being the cause of a lot of water damage. Water will find any hole to travel through and these flashed areas on the roof are likely the culprit.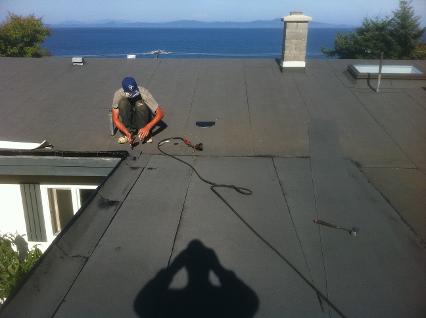 This is a torch on roof that we repaired in Victoria. We find these types of roofs fail and leak for some simple reasons. The main cause of torch on roofs failing is because of pooling water on the roof, the water seems to damage the membrane over time. We see this often on older flat roofs that likely had a tar and gravel roof system. Tar and gravel roofs are more tolerant to pooling water. New flat roofs require a 2% pitch to prevent pooling water. Another problem we find with torch on roofing is a lack of heat at the time of install, causing deficencies. as there is a fine line with the right amount of heat and not burning down the building.
Below is a number of small roof leaks, that can go unnoticed for years, damaging your investment and possibly effecting the heath of you and your loved ones.
Asphalt
Above you can see the nail heads on these asphalt shingles, it is hard to see in the picture but the rusted nail heads are a clear indication that at some point water has been trapped under the shingles. There are many reasons that these roofs leak. Rusted nails are a classic, and there is not much that can be done when you find this besides replace the roof. The most common failure I find with asphalt roofs is laced Valleys IE [no metal Valley}, and poor ventalation. I find this more often in Duncan and Cowichan Valley areas.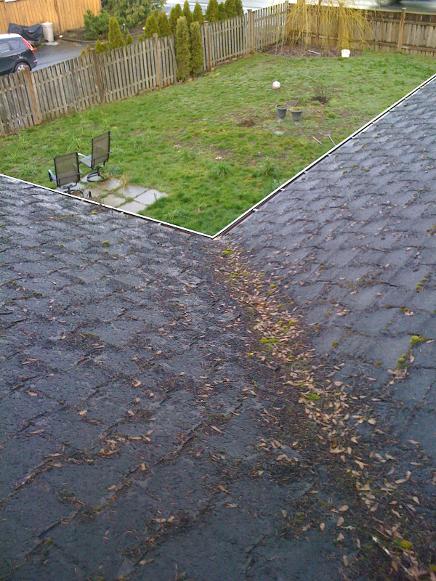 Above is a picture of a laced valley, with a heavy buildup of organics and warn of roofing, its not uncommon to find water damage in this type of location. There may be mold on the roof sheeting, which is harmful to you and your family, if you smell mold you can follow this link to more information on mold. Mold in Victoria,Duncan,BC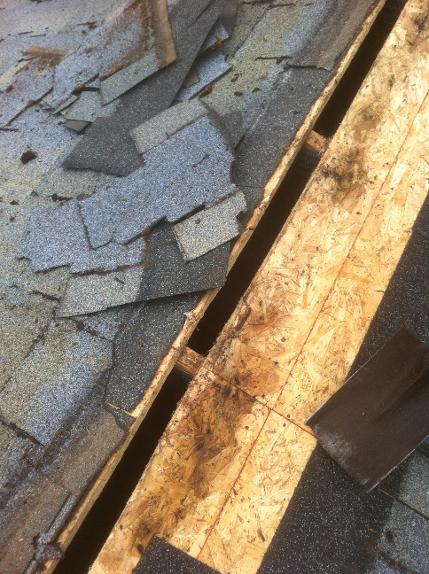 Above is picture of a roof in Victoria, that had a vented ridge, vented ridge has been on the mainstream market since the 1990s, what we are seeing here, we found shocking as there is a large number of houses that use this ventilation system, as you can see it is clearly failing and allowing water to leak in and slowly rot and mold the roof deck.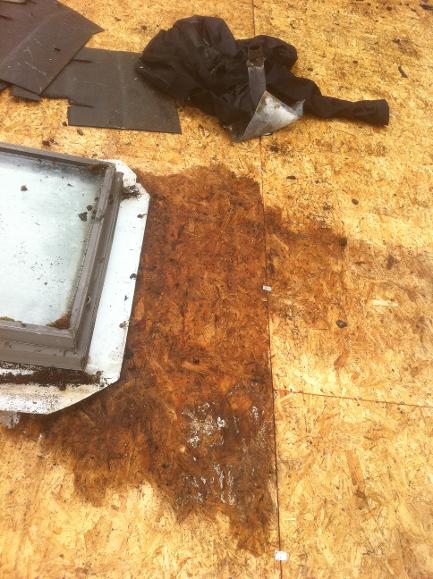 leaking skylight flashing. The white spots that you see on the wood, is the start of mold.
For mold removal in Victoria, Duncan, BC
If you have a leak or concern's about your roof, call us for a free roof inspection and free roof repair estimate.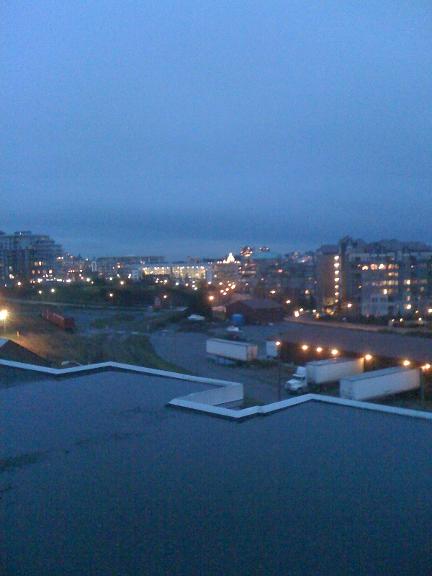 Plugged roof drain, caused a bad roof leak on this apartment building in Victoria, BC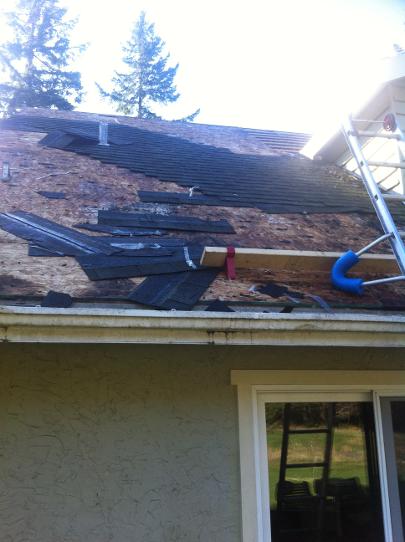 In this image you can clearly the rotted OSB board, this is the work of a fly by night roofing contractors Duncan, BC area. This roof was a repair call, as you can see this roof was beyond roof repair. This wasn't an old roof and was passed by a home inspector in recent time. However this is why the cheapest roofing contractors are not always the cheapest. The lack of valley flashing, step flashings and a bad asphalt shingle stagger caused this roof to fail far before its time.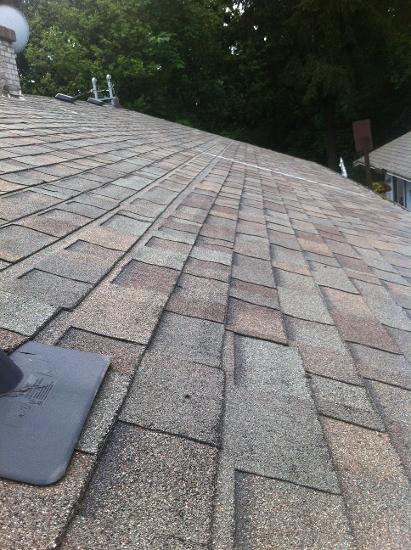 This picture is a do your own roof guy. I see this more often than you would think, do it yourself roofing install. The owner was quite proud of this mess on his Duncan, BC home. He told me that he had saved a lots of money and for a very short moment was quite proud. I asked him if he had seen the clear instructions on the 50 or so bundles that he had opened. If you're buying a new home beware of this. Often these people replace the roof themselves, most often wrong before putting the home on the market.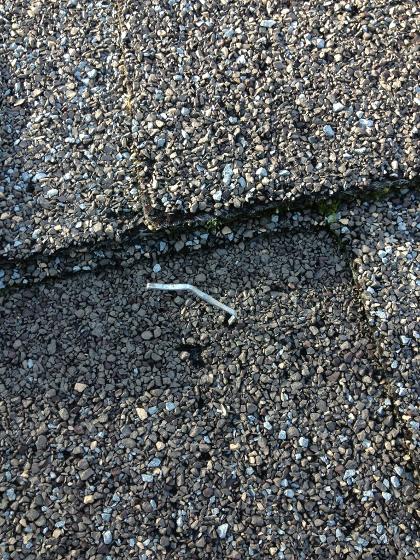 Renter in this picture got into the Christmas spirit. this was a leak call in Saanich, BC the roof wasn't old, what we found was total destruction of the roof, The renter decided to install Christmas lights all over the roof. Because it can get windy in Saanich, BC so he nailed them down to the roof and when he ran out of nails he used strews and staples. This caused many small roof leaks where the shingles had been compromised.