The McCallum Family has been roofing on southern Vancouver Island
S
ince 1945.
We have been installing various roofing & Sheet Metal in North America for seven generations. In the late 1970's, McCallum Road
in Langford, BC
was built by the McCallum family.
This is the present location of "Millstream Village," Home depot, Costco and many others.
If you just need a roof repair, or maybe more. Our repair experts will let you know. We pride ourselves on fast roofing repair service in Victoria and Duncan, BC
Locations near you:
100% Vancouver Island Owned & Operated
Fully Insured and WCB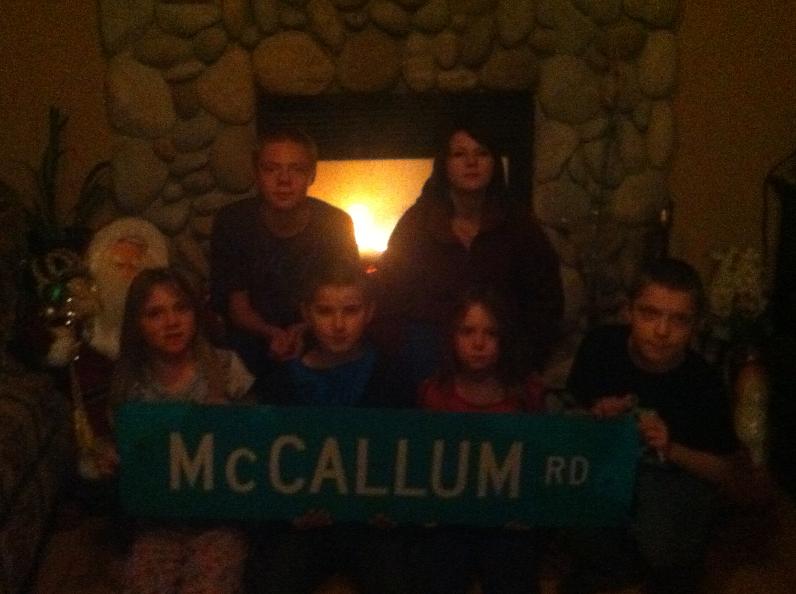 Some Types of Roofing Repairs we do & roof leaks we have stopped in Victoria, BC Duncan, BC Nanaimo, B.C. and the Cowichan Valley
Asphalt Roofing, Shingle Leaks, Concrete Tiles, Flat Roofs, Torch-on Roofing, Metal Roofing, Skylight leaks, Chimney flashing leaks, Tar & Gravel, TPO Roofing & EPDM Roofing
If you are considering repairing an old roof here are some things to know, we will always recommend replacing the roof. New roofs in Victoria, Duncan, BC A roof repair is in most cases is a temporary option, and most likely a warning sign of bigger leaks to come. The leak may return and you might be on vacation and have no idea, thus causing damage to the contents and structure of the interior of your home. We have been repairing flat and asphalt shingle roofs in Victoria and Duncan for a number of years. We have well trained and competent roofers to do repairs to commercial buildings, condos and townhouse complexes, as well as residential roofs.
Large numbers of commercial buildings, condos and townhouse complexes have tar and gravel roofs. We are experts when it comes to flat roof leaks. A flat roof leak might travel 20 feet before you see the leak, however this is rare but we have seen it on a small apartment building on Hillside Ave in Victoria, BC. If you have a tar and gravel roof it can only be fixed successfully a few ways. The best way is to call a roofing contractor that has the ability to patch the tar properly. What to watch for when getting a roofer to fix your tar and gravel roof is, if they are offering to fix the leak with torch-on roofing this might not be in your best interest, as torch-on is not compatible with tar and in most cases fails within a season or sooner. We have had many home owners install a tarp on a flat roof and this does nothing besides ruin a good tarp. Tarps are made of fibers the tighter the fiber the better the tarp, however even the best tarps can't resist pooling water.
Another common cause for leaks are improperly installed wall, transition, skylight and chimney flashing. We see far too often this being the cause of a lot of water damage. Water will find any hole to travel through and these flashed areas on the roof are likely the culprit.
Ask us about Drone roof reports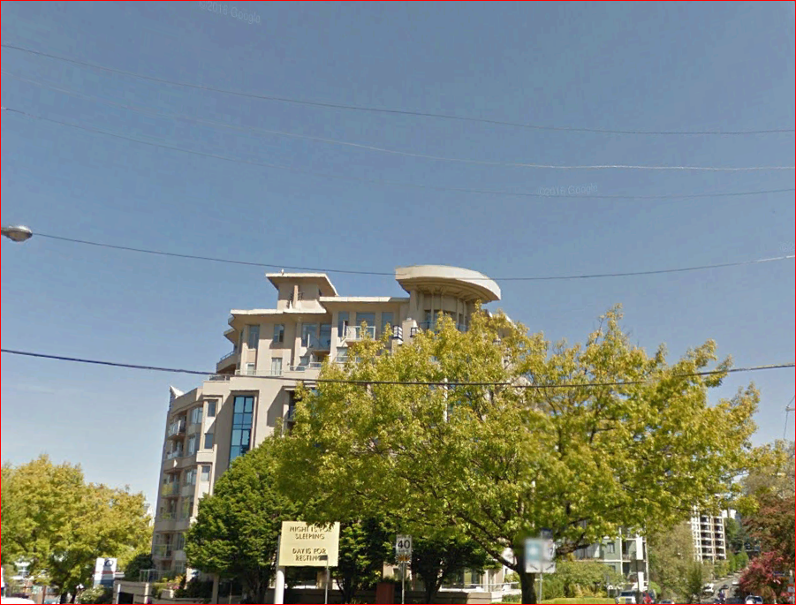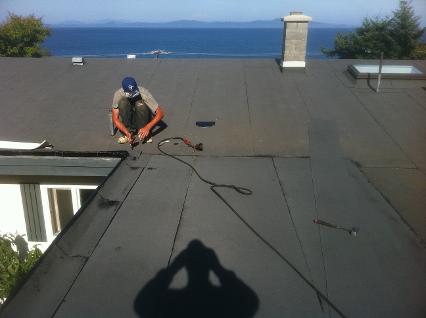 This is a torch on roof that we repaired in Victoria. We find these types of roofs fail and leak for some simple reasons. The main cause of torch on roofs failing is because of pooling water on the roof. The water seems to damage the membrane over time. We see this often on older flat roofs that likely had a tar and gravel roof system. Tar and gravel roofs are more tolerant to pooling water. New flat roofs require a 2% pitch to prevent pooling water. Another problem we find with torch on roofing is a lack of heat at the time of install, causing deficiencies. There is a fine line with the right amount of heat and not burning down the building.
Below is a number of small roof leaks. They can go unnoticed for years, damaging your investment and possibly effecting the health of you and your loved ones.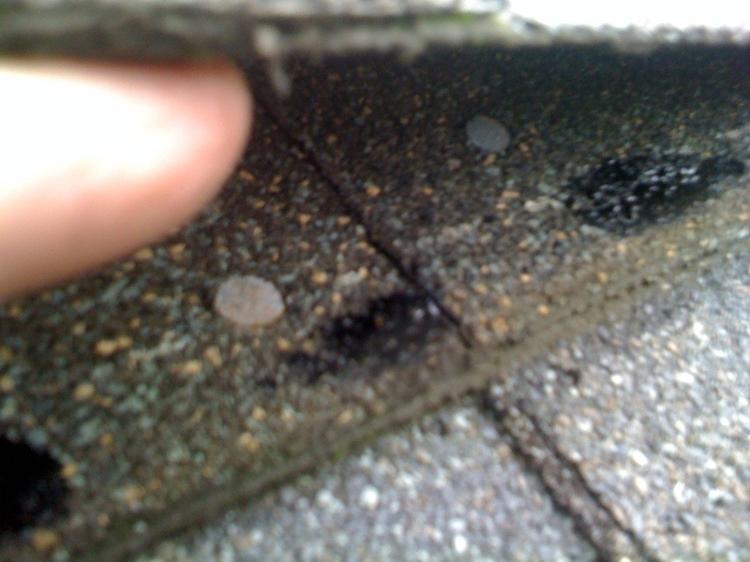 Asphalt
Above, you can see the nail heads on these asphalt shingles. It is hard to see in the picture, but the rusted nail heads are a clear indication that at some point water has been trapped under the shingles. There are many reasons that these roofs leak. Rusted nails are a classic and there is not much that can be done when you find this besides replace the roof. The most common failure I find with asphalt roofs is laced Valleys IE (no metal Valley) and poor ventilation. I find this more often in the Duncan and Cowichan Valley areas. Not as often in Victoria BC.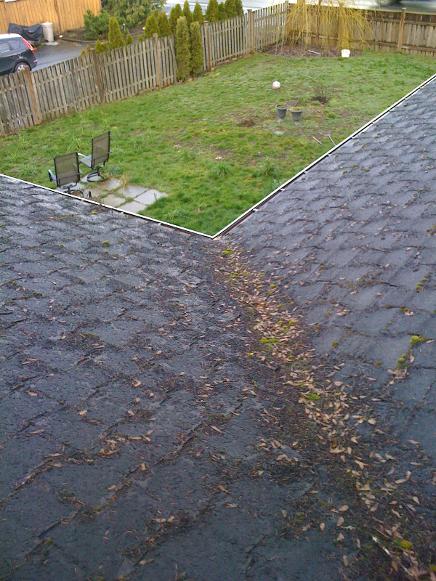 Above is a picture of a laced valley, with a heavy buildup of organics, moss and worn roofing material. It is not uncommon to find water damage in this these locations. There may be mold on the roof sheeting, which can be harmful to you and your family. If you smell mold you can follow this link to more information on mold. Mold in Victoria,Duncan,BC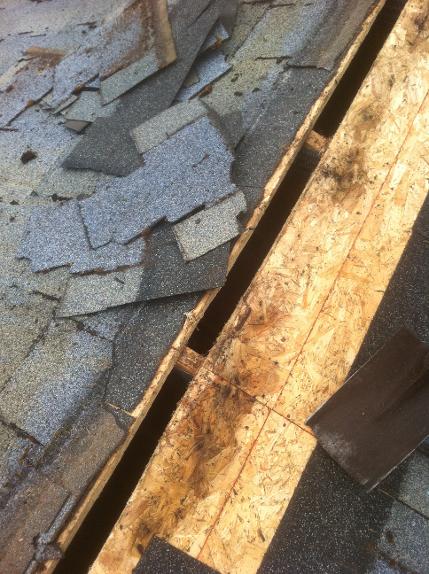 This is a picture of a roof in Victoria, that had a vented ridge. Vented ridge has been on the mainstream market since the 1990's. What we discovered on this roof, we found shocking as there is a large number of houses that use this ventilation system. As you can see it is clearly failing and allowing water to leak in and slowly rot and mold the roof deck.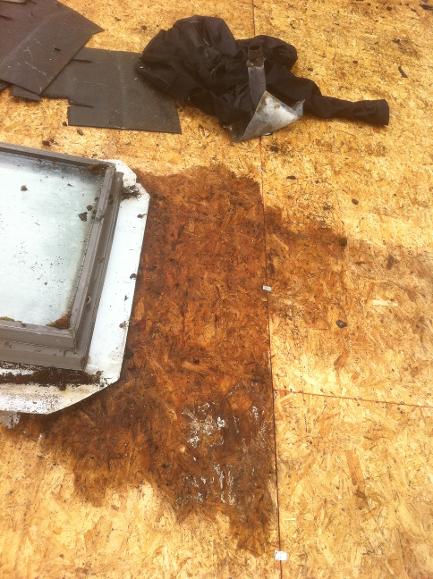 Leaking skylight flashing. The white spots that you see on the wood, Maybe the start of a mold problem.
For mold removal in Victoria, Duncan, BC
If you have a leak or concern's about your roof, call us for a free roof inspection and free roof repair estimate.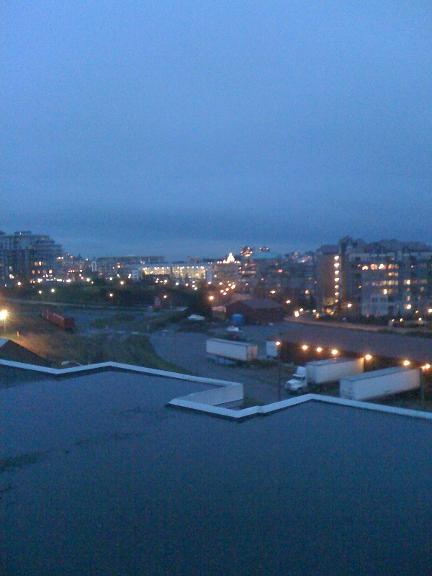 Plugged roof drain, caused a bad roof leak on this apartment building in Victoria, BC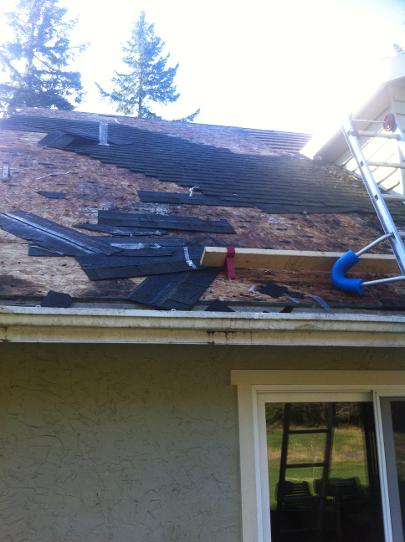 In this image you can clearly see the rotted OSB board, this is the work of a "fly by night" roofing contractor in the Duncan, BC area. This roof was a repair call, as you can see this roof was beyond roof repair. This wasn't an old roof and was passed by a home inspector in recent time. However this is why the cheapest roofing contractors are not always the cheapest. The lack of valley flashing, step flashings and a bad asphalt shingle stagger caused this roof to fail far before its time.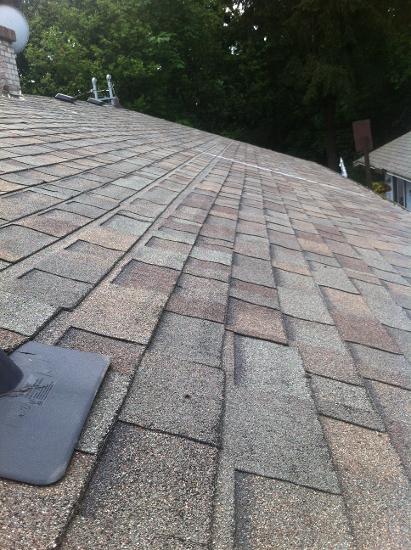 This picture is a "do your own" roof guy. I see this more often than you would think, do it yourself roofing install. The owner was quite proud of this mess on his Duncan, BC home. He told me that he had saved a lots of money and for a very short moment was quite proud. I asked him if he had seen the clear instructions on the 50 or so bundles that he had opened. If you're buying a new home beware of this. Often these people replace the roof before putting the home on the market. Often they do it themselves to save money. They do not realize that there are specific installation instructions,thus causing improper installation of the roofing shingles.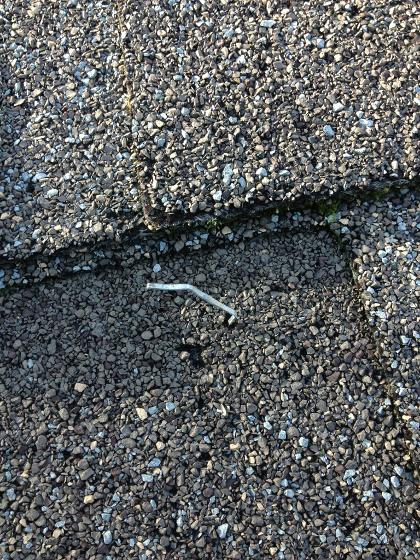 The renter of the home in this picture got into the Christmas spirit. This was a leak call in from Saanich, BC. The roof wasn't old, yet, we found total destruction of the roof. The renter decided to install Christmas lights all over the roof. Because it can get windy in Saanich, BC He nailed them down to the roof through the shingles and when he ran out of nails he used screws and staples. This caused many small roof leaks. The roofing shingles were sadly destroyed .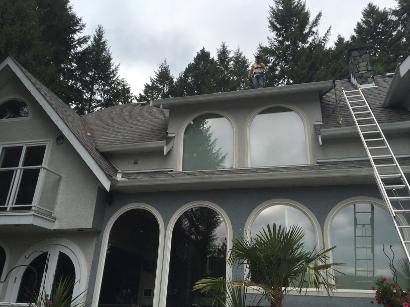 This beautiful home on the Shawnigan West Arm in Shawnigan Lake, B.C. suffers wind damage. Because of poor installation and failing asphalt shingles a small windstorm can cause roofing to blow off. It's sometimes a long dangers climb to the location of damage. This should only be performed by a professional roofer, the money that you save isn't worth your life.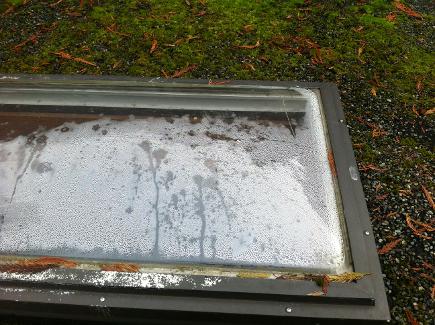 Skylight leaking is a very common repair call we receive, often skylights are not replaced when house/building roof is replaced. On The south coast Victoria, and Duncan, Skylights have a life span of 10 to 20 years depending on the brand. As you can see in this picture of a skylight we removed in Duncan, B.C. you can see that the seal has failed. Moisture is between the two layers of acrylic this could be a warning that the skylight maybe leaking behind the drywall in the ceiling box. Birds also shorten the life of some skylight models, they like to remove the rubber trim on some models.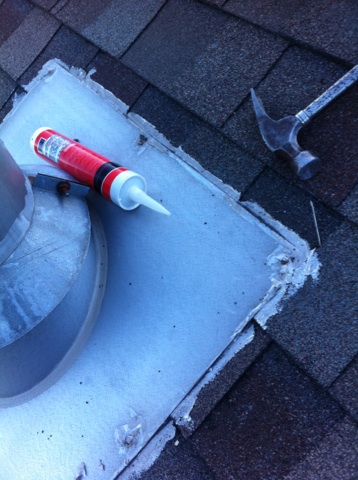 This picture is of a b-vent installation. It appears that the installer of this furnace or stove in Maple Bay, B.C. Didn't have a clue about roofing. Surprising it hadn't showed any signs of leaking yet. What was equally surprising that it was found by a home inspector.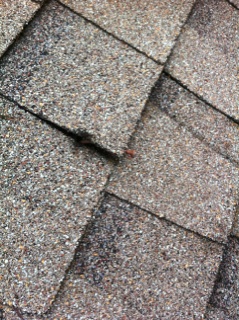 In this picture you can see a bent nail poking through the asphalt tile on this roof in Shawnigan Lake, B.C. The roof in this picture is of a steep pitch. When this roof was installed, the roofers used a tool called a jack. The jack tool is used to hold planks in place for the roofer's to work off. When the roofers are done working they remove the jacks. The nails are just normally left under the roofing without incident, however for some reason this nail worked its way out causing a small leak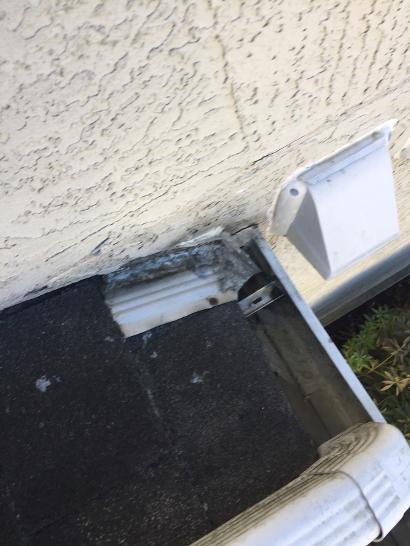 In this picture you can see a handyman repair on this condo entry roof in Duncan, B.C. When the original roof was installed, flashings were installed between the roof and wall. In this picture you can see that the flashing didn't make it too the gutter. A handyman has made an attempt to redirect the water to the gutter. Too address this problem properly the stucco will have to be cut away and a proper flashing should be installed.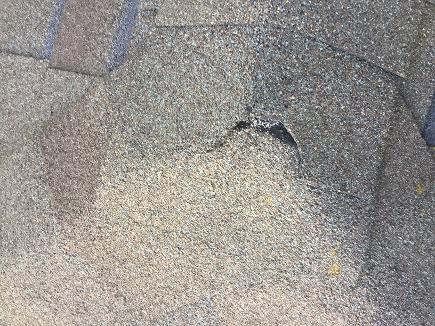 In this picture you can see that a bird has come along and pecked the ridge capping. The asphalt roofing tiles have a sandy U.V. coating called granules. These granules are made of natural minerals covered in colored ceramic. Birds seem to like these granules, maybe for their gizzards? I don't know why birds peck at asphalt shingle tiles, just like roof leaks it just happens.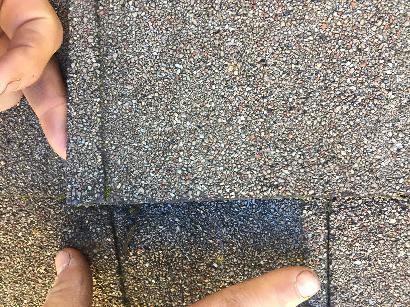 In this image the roofer is pointing out the stagger, the stagger is the brink like pattern that you see when roofing shingles are installed. The length of the stagger is very important. 11 to 8 inches is what most Roofing manufactures' would like to see. In this picture the roof has problems, this can sometimes be contributing to a failure. Of this Condo roof in Duncan, B.C.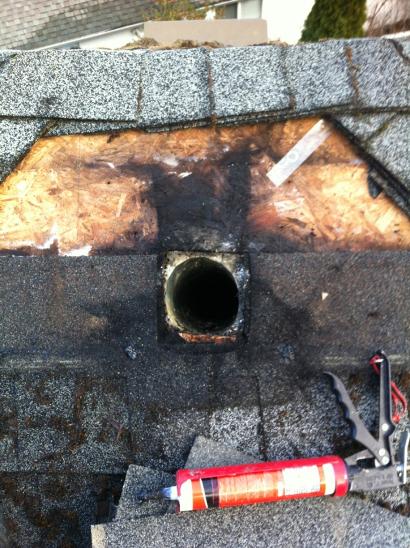 On this Cobble Hill roof a roofing flapper vent was leaking for a long time. Mold has start growing and is well established, with the source stopped the mold will die off.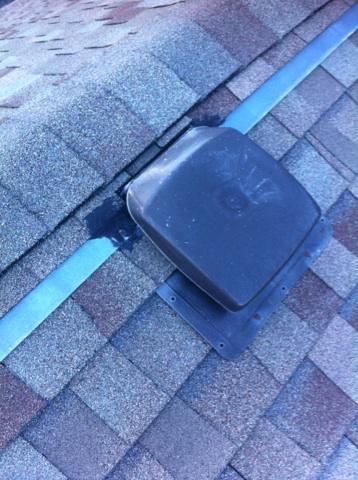 This a Mr. Magoo roof, everything you could do wrong this clown did. After installing the roof vent wrong he proceeded to smash it full of holes with this useless zinc gimmick. He then added tar on top, just in case you didn't think he was crazy already.
It's not easy to locate a roof leak, this Shawnigan Lake, 30 year malarkey roof was one of these. Wrinkles in the tar paper was the first sign that we on the right path of the leak.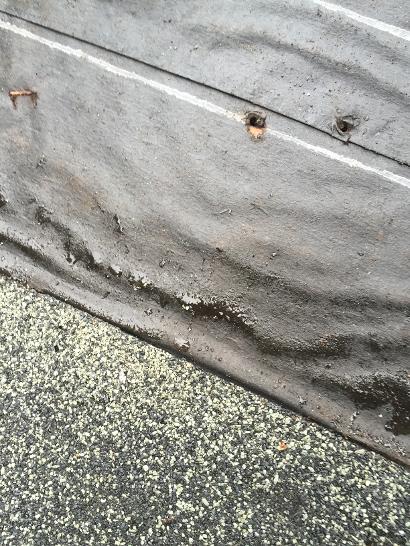 A bit of moisture and some rust but not much sign of the annoying reoccurring roof leak this home owner had tried to stop.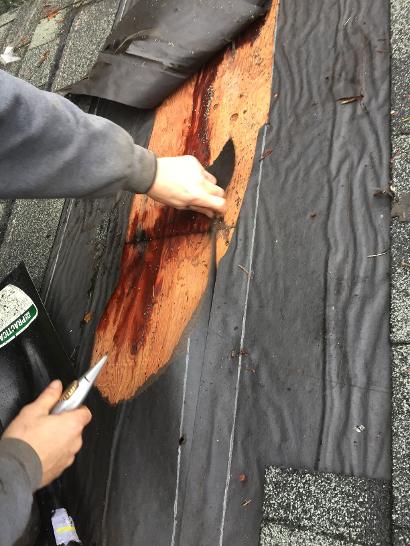 Wow hidden under the paper we find the monster roof leak, death by a thousand cuts is the best way to describe our find. Often with leaks it is common to find one location leaking, a nail or water backing up. These type of leaks thankfully are not as common, leaking to the point of soaking the plywood as the water enters from many small locations.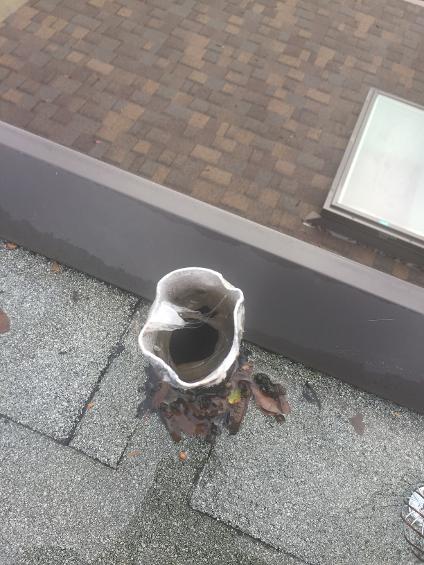 This picture is showing a lead plumbing stack flashing on a flat roof. The pipe was a lot smaller than the flashing used, in heavy rainfall water is able to get in between the pipe and the flashing. This pipe flashings install is also questionable.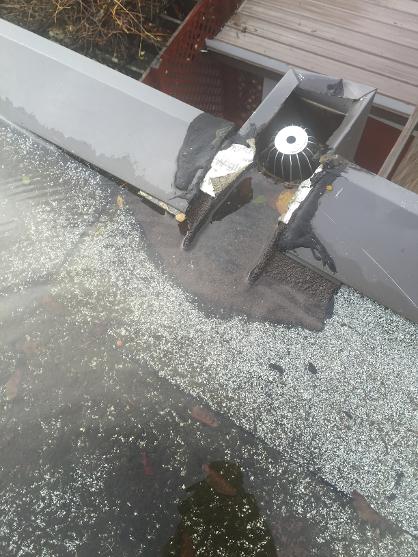 In this image this Duncan flat roof has water pooling problems. The drains known in the trade as a scupper drain are very high. The roof has to be flooded before the water gets near the drains. In the picture you can see a few leaves cause massive pooling. On this complex if drains are not cleaned often water backs up and roof leaks.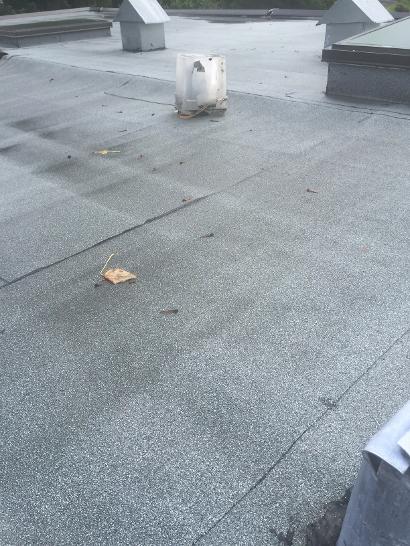 You know things are in a bad way when you see a bucket used to stop a leak.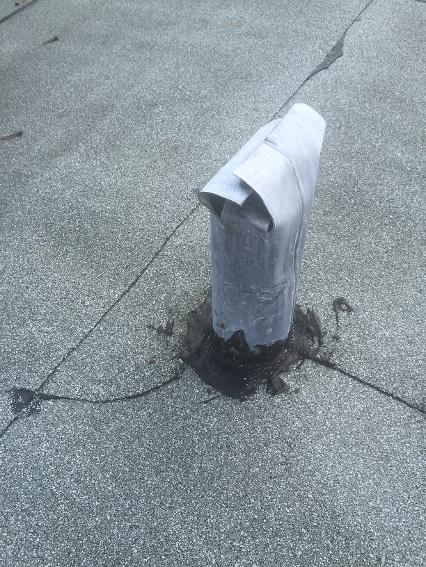 This plumbing stack is in a bad way on this Duncan roof. Tar has been smeared around the base to deal with the improper installation. The flashing was too big for the pipe, so it's been cut to make it look better. However this really is like putting lipstick on a pig.