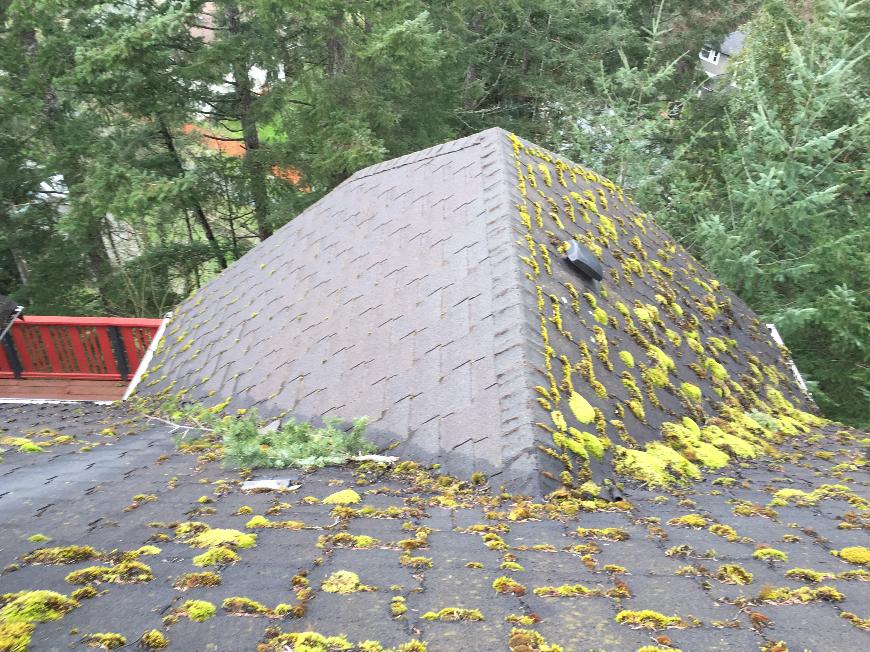 Moss on my roof! Is it a problem?

The answer is most often yes, moss roots itself into the granules i.e. rocks on asphalt roofing. The environment on Vancouver Island is optimum for the growth of moss and algae and molds. On roofs that we have installed in Victoria and Duncan B.C. we have found the moss will start growing within 10 years on A.R. Roofs.
A.R. Roofs are algae resistant roofs, some people refer to these shingles as moss proof. This however is untrue as there is over a thousand species of moss no manufacture can claim they can stop moss. A.R. "resistant" removing moss can and will do damage to the roofing. The internet is full of fly by nights selling moss removal, some scammers offer crazy warranties for thousands of dollars. Another total myth in moss prevention is metal flashing or zinc strips. These don't work as moss is subject to electrolysis the energy on the roof is what affects how the moss grows. We have seen in some locations moss growing on the zinc stripping Coatings will only void your roof manufactures warranty. At PW McCallum Roofing we offer good old fashioned preventative maintenance.
As of October 20 2016 we have started to offer this great service, we will spray your roof with our environmentally friendly roof moss killer. If you're in Victoria or the Cowichan Valley call today